Datasheet
EcoMulti Standard
EcoMulti is a venturi system that dilutes up to 4 chemicals from one
dispenser. The proportioner is available for high flow (14L/min) and
low flow (4L/min) applications and ideal for use with spray bottles,
buckets and scrubber dryers. The proportioner has been designed in
accordance with European Standard EN 1717 and is fitted with a Type
DB backflow preventer.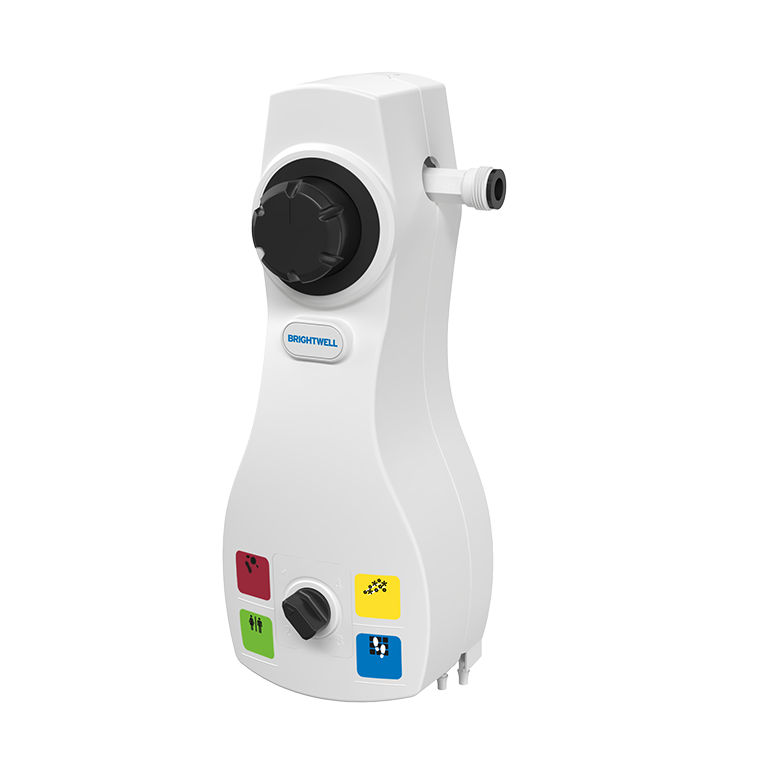 Dimensions (mm) (H x W x L)
396 x 147 x 134
Weight
1.0 kg
Branding (mm) (H x W)
Centre branding plaque: H 15 x W 40
Multi-lingual, colour-coded chemical pictograms
Installation
Working temperature range 4 – 65 C
Working pressure range 2 – 5 bar
Minimum water flow required:
High flow = 3.5L/min
Dilution
13 independent dilution ratios
High Flow 6:1 – 350:1
Material
Cover/Backplate:
Glass Bead Polypropylene (GBPP)
Pusher: ABS
Internal tubing and seals: EPDM
Accessories
Hanging bracket
Secure chemical cabinets (2L/5L)
Coloured rings
Approvals
WRAS 1311065
WaterMark: Licence No. WMK25899
Specification: ATS5200.101 – 2005
Warranty
2 years
Technical specifications
EcoMulti standard unit
Dispenser key
Ceramic weight x 4
Foot filter x 4
Low flow outlet tube with flood ring (unit dependent)
High flow 1.5m outlet tube with flood ring (unit dependent)
Clear PVC chemical suction tube – 6 x 9
Instruction manual
Drilling template
Screw pack
Bottle bracket and clips (unit dependent)
Bucket hook (unit dependent)
In the box
| Part number | Description |
| --- | --- |
| DX4H-WK | EcoMulti Standard, 4 x High Flow, White Cover, Grey Ring, BrightGap |
| DX4L-WK | EcoMulti Standard, 4 x Low Flow, White Cover, Grey Ring, BrightGap |
Part numbers
Shipping method
Quantity of units
Dimensions
L x W x H (cm)
Net packed weight (kg)
Unit
1
52 x 24 x 17
2.4
Case
3
63 x 54 x 27
7
Pallet
54
120 x 100 x 117
150
Euro Pallet
42
120 x 80 x 117
120
Shipping info