Colour-coding cleaning accessories
The benefits of colour-coded cleaning routines have long been recognised by the cleaning and maintenance industry. The level of hygiene is improved as cleaning equipment is segregated specific to purpose and area for use. More importantly, by not using the same equipment to clean across multiple areas, the risk of cross-contamination is greatly reduced. This is particularly advantageous for healthcare and food preparation environments where effective cleaning and sanitising is necessary to prevent the spread of harmful disease and bacteria.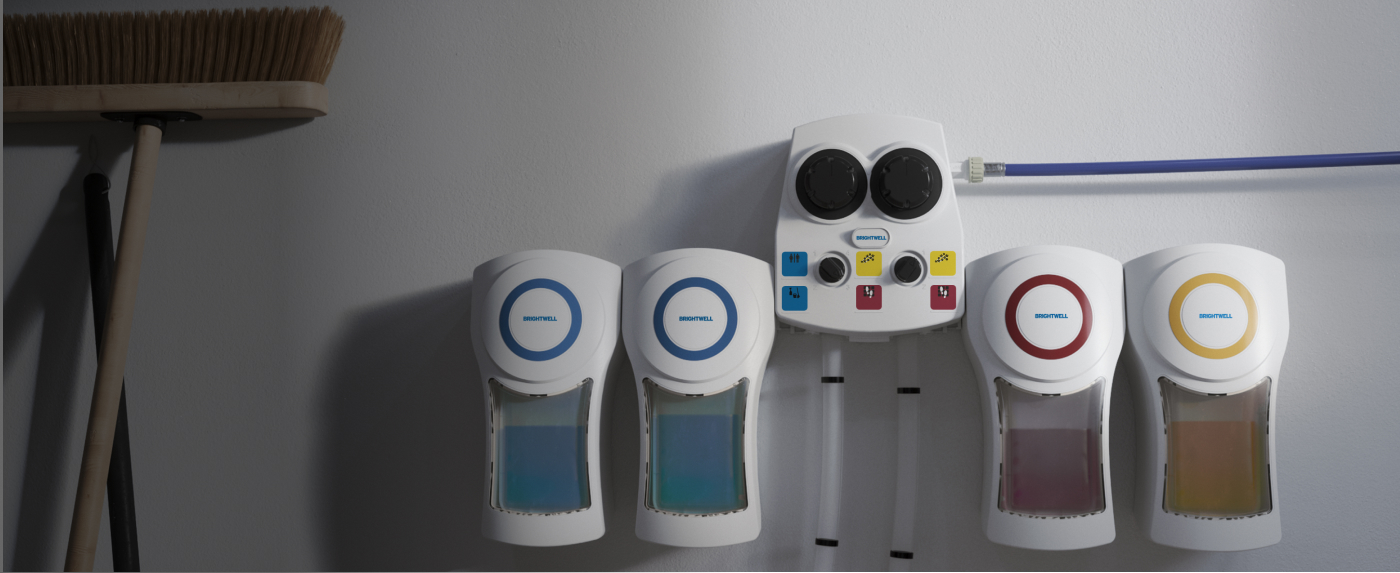 While there is no formal colour-coding standard, the cleaning industry has broadly accepted the colours green, red, blue and yellow as their key colour-coding coordinates. In response to this, here at Brightwell, we have created our own range of accessories to promote colour-coded cleaning practices. These accessories are available as part of our EcoRange of chemical dilution systems and can be used to complement colour schemes for equipment and materials e.g mops, buckets, gloves, that many companies already have in place.
1. Multi-lingual, colour-coded chemical pictograms
We offer an extensive range of multi-lingual, colour-coded chemical pictograms that come in sets of blue, green, yellow, red and transparent. There are 9 pictograms to choose from which cover the most commonly used cleaning applications. The accompanying text labels are available in English, Spanish, French, German and Italian.
2. Coloured Rings
EcoMulti dispensers and chemical cabinets can be customised with coloured rings. This enables you to create one complete colour-coded system to ensure easy identification of correct chemical product and use. Minimum order quantities apply.

3. Colour-coded Wall Chart
Our free EcoMulti colour-coded wall chart identifies each area by colour. This can be attached to the wall and used as a reference for cleaning operatives. The chart suggests colour-coding as follows:
Blue – General lower risk areas
Green – General food and bar use
Red – Sanitary areas and washroom floors
Yellow – Washbasins and other washroom surfaces

Download Brightwell Dispensers' colour-coded wall chart.